It's just 1 of those days when there's no dinner at home and we had to settle out own food.
(we = me + joe + brother)
We decided to try out this American Food Restaurant, Buckaroos BBQ & Grill, where we heard the food was in huge quantities and yummy!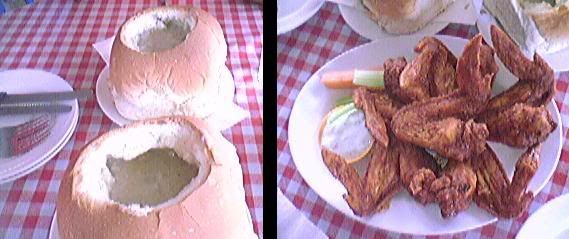 ** (left) Clam Chowder & Mushroom Soup Serve in Bread Bowls**
** (right) Level 1 (hot) Buffalo Wings **

** (left) Next came Poe's Fish and chip...look normal right! check out the left pic **
** (right) notice the Spoon! The f**king fish is huge?!! **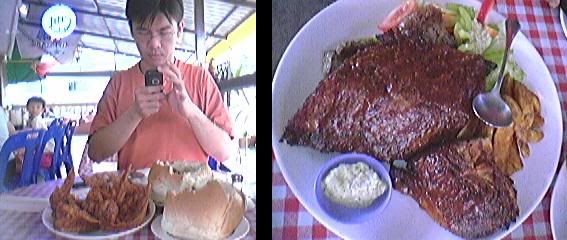 ** (left) Poe taking pic of the food to tempt his frens.. heehee .. the little kid sitting behind us must be wondering what we're doing with our fones?! **

** (right) me & joe shared the platter, consisting of a piece of steak hidden below the freeking ribs and a chicken drumstick. Vege is very fresh, wedges crispy and we had garlic butter sauce to go with it! Yum!!**
PS: note the spoon next to the ribs - just an idea of how huge it was... ...
Too full 2 carry on ... *BURP!*