Even after popping 8 flu tablets a day, it simply refuse to budge away from my immune system. In fact it just got worse and worse!! First it was the coldness, then the running nose, last night was the fever and today is the itchy throat. Sobs~ I still dragged myself to work yesterday despite the lack of sleep and tireness in me. In addition, the flu left me feeling so lethargic that I simple slept throughout the way on the train to Joe's place. The lost of appettie didn't help much and I slump myself to sleep for the rest of the day till Joe's finished work and mention the word shopping. Call me a shopping freak, watever~ but the flu wasn't going to stop me from going. I bought a cute little stamp for my student and Joe spent a hefy $200 over on 2 pairs of Levis Jeans. I must say that the Engineer Jeans really look nice!
Last friday was spend at mortons where we met 4 new friends, 2 from France, 1 from England and I didn't catch where the last was from. My apologies. ;p They were unbelievable friendly and it changed my perception that all french were just plain right snobbish. So there are white sheeps amongst the black. Oh! Lena wore her lovely Sari for that day (Racial Harmony Day) and she did get quite some looks from the people there. LOL! Even an Indian was checking her out when she was accompanying me waiting for Joe to arrive. Too bad she didn't notice.
Her unintentional artistic shot. Notice the 2 waiters at the jap rest. opp. staring at her. ;p
Finally, a proper shot.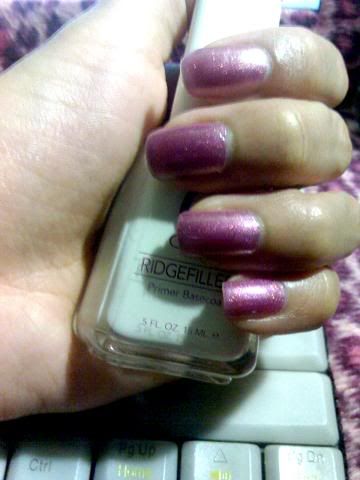 My nail color for the past 2 weeks and the new Orley base coat that I bought over the weekend.
The dress I ordered from HK is here and it looks exactly like the one in the picture but she sent the wrong color. Despite all the description and pictures, she still could not get the msg and I'm losing my patience. She had tried to include a photo in her email but it was saved under a locked webby that doesn't show up in the email. Even after telling her a zillion times that it's not showing, she still use the img tags that failed to work.