After a couple of delays, I finally made my way back home last night. I always feel sad when I have to leave a country after being there for some time even though I hate the shoving and language barriers of Korea. They left Joe and I another momento to remind us of their behaviour when we were checking in at the SIA counter.
Apparently, an airport staff just budge in between me and another passenger at the next counter without a word of excuse me and start yakking away in korean to the girl arranging our boarding passes. In his attempt to squeeze in, he pushed me and although I had learnt to grow familar to such behaviour in Korea, I still had to let Joe know about it. Unfortunately, it brought about some fire in the dragon and he decided to raise his voice at the guy and told him that it's common decency to say excuse me rather than to push a lady. The guy did not catch a word of English (as expected) just kept waving and speaking in Korean, which I figured out that he could be telling Joe, nothing or no. Joe got even more angry and told him to say sorry to me (my shining armour prince *_*). Eventually the girl had to explain to the guy before he finally apologised and said excuse me. (ah well..that's koreans for u) So anyone planning a holiday to Korea, please be prepared to be shoved and SHOVE! lol!
After the incident, we headed to the lounge for some food and bumped into Joe's colleague who happened to be on the same flight as us. Ah well, there was only one flight back at night. (Whahhahahha) Oh! We bought some ginseng tea from the Duty Free on top of the little snacks we got at the local supermarkets as gifts.
After some waiting, we finally were told by tha SIA staff to proceed for boarding. As we settled in, the plane began to shift out of it's parking to prepare for taxi at the runway. Although Korea was not one of my favourite places of holiday but sometimes I still can't help but miss being there.
The plane being reversed out of the lot...sigh~~ and yes I'm seated at the window next to the wing. we managed to grab 2 seater at the end of the roll... my fave!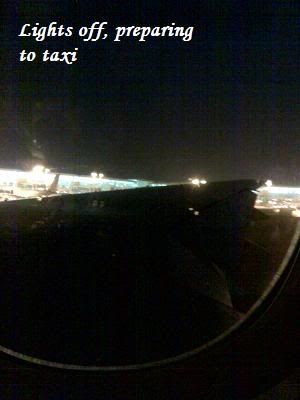 Time to switch off the lights and prepare for take-off.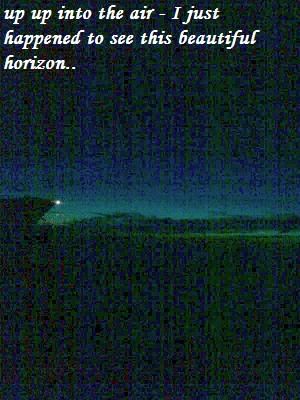 After the plane stabilised, I looked out of the window and was greeted by a lovely horizon. This was the best I could get out of my camera phone and for ur info, my phone has aeroplane mode if ur wondering why it was still on.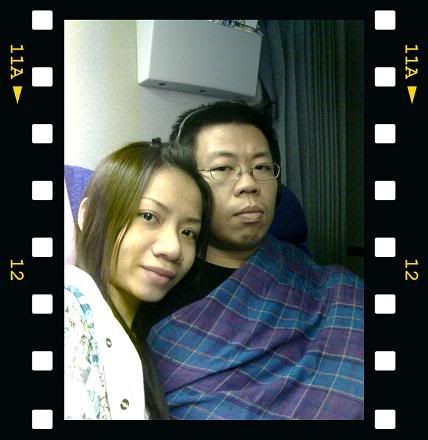 An hour away from landing and we were both looking super exhausted. I reached home at 2a.m in the morning, took a shower and dropped "dead" onto my bed. It had been such a long time since I slept in my own bed and I had to tune myself to get used to my pillow again.
I spent a good 1 hour unpacking and sorting out the stuff to be given out. So here's my loot from Korea.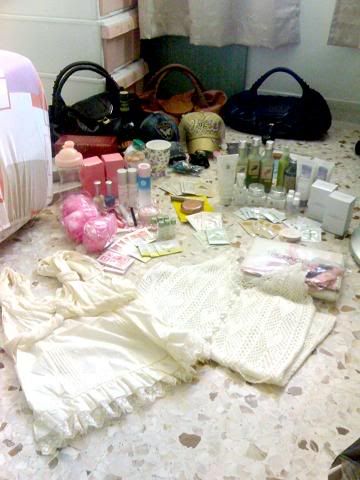 The star of the purchases were the COSMETICS!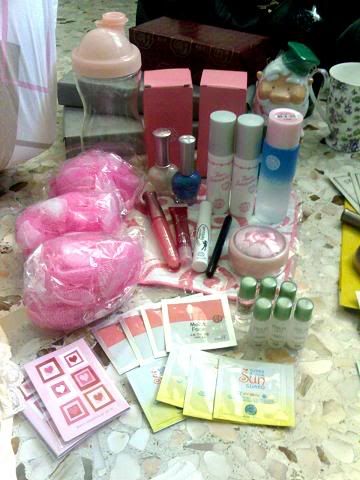 The Etude House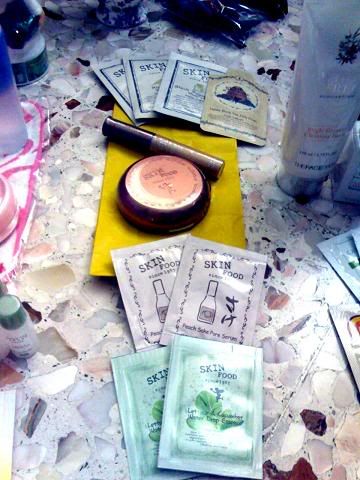 The Skin Food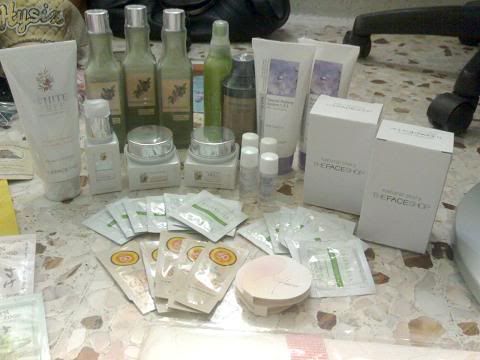 Last but not least, The Face Shop!