My recent loots from "retail therapy"... well actually I was planning to do nail art at this shop upstairs Bugis Village but the surroundings simply turn me off that I ended up heading back to the shop where I got my off white shorts. It's not only pretty but fits me perfectly. With my pettie frame, it's just too hard to get clothes that fit me well. So I eneded up getting the black one as well so as to save the trouble of looking around. Eventually, one led to another and I got some nice, cutsy inner wear from Buttons. Oh! My dress from HK was here a week ago and it came in the wrong color. Sigh~ It still looked nice and the miscommunication just 'kills' me to try to get the seller to understand that she had sent the wrong color. Long story, so I'm not going into it. Overall, the design and quality is still the same as the pictures. I suppose I will get more clothes from her in the future.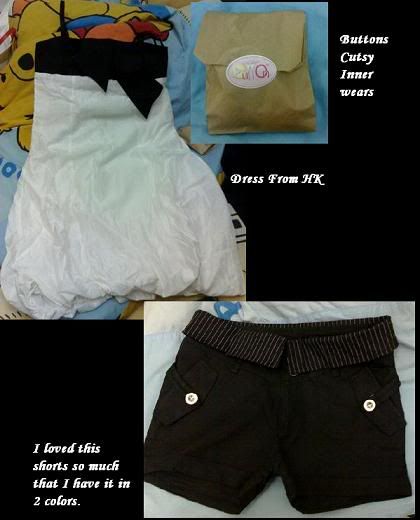 Over the weekend, I booked an appointment with my favourite nail artist, Cyndi for a full nail art session. It's been since CNY and I'm so in the mood for it now. The ones at B.V cost about $2-3, which only consist of designs from their chart. The workmanship isn't that good and for $3, the design is way too simply. Cyndi is not only quick in her drawing but her eye for details are just endearing. I also like the fact that she allows me to choose any design as long as it can be drawn out by hand and her Jap nail art magazines are like dosages of 'drugs' that leave you wanting more. All in all, she charged me $2 per nail (nt inclusive of the express mani that she did) and the design I chose this time is a Jap hawker theme. Till my nails grow out of it then I shall go for my next session.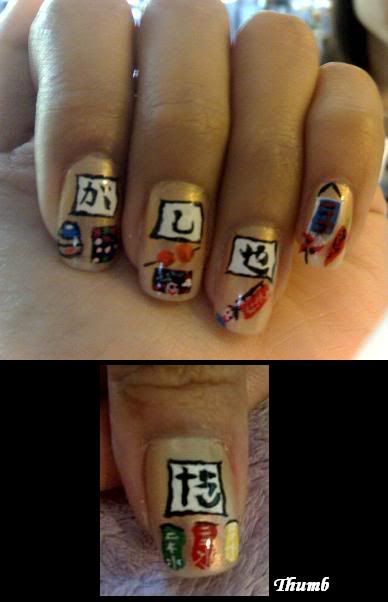 Monday was spent at a home salon in Jurong (so far... ...) run by an auntie who doesn't really seem that old (btw) and she actually has 3 kids already! She spent about 3 hours for my rebonding session, which seemed really fast cos she would constantly chat with me and made sure my hair was ok. I supposed that would be the perks of going to a home salon. She did not squeeze customer appts together and her concentration was solely on me. Unlike being at a salon, they try to jam their appts full and the stylist had to juggle between a few customers at a time. Even as an auntie, she is well acknowledged about hair and is able to explain my hair condition and advice on what damages my hair. At $60 for a well done rebonding, I'm not complaining the 1.5hr journey I took. Love her to bits! Now my hair is super straight and smooth, except for the dry ends. She does not include treatment or trimming of hair but its okay as I'm already planning to go back to my regular stylist for a trim.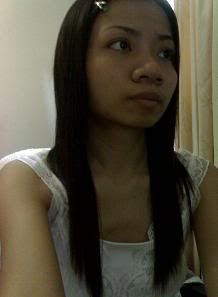 Today I saw a different look for Old Chang Kee and it sold rice instead of the usual curry puff.